The list of items included in golf equipment is getting longer as new products come onto the market – some of them are quite useful, while others you can do just fine without.
When you're just starting out in your career, or just wanting to put together a set of essential items, you should only buy what you really need or need.
Golf bags
Golf bags first appeared and became widely used around 1870. Prior to this, players' caddies simply carried a bunch of clubs under their arms.
Now golf bags play an important role, it is unlikely that you will be allowed on the golf course without a golf bag. Needless to say, the assortment of bags is quite large.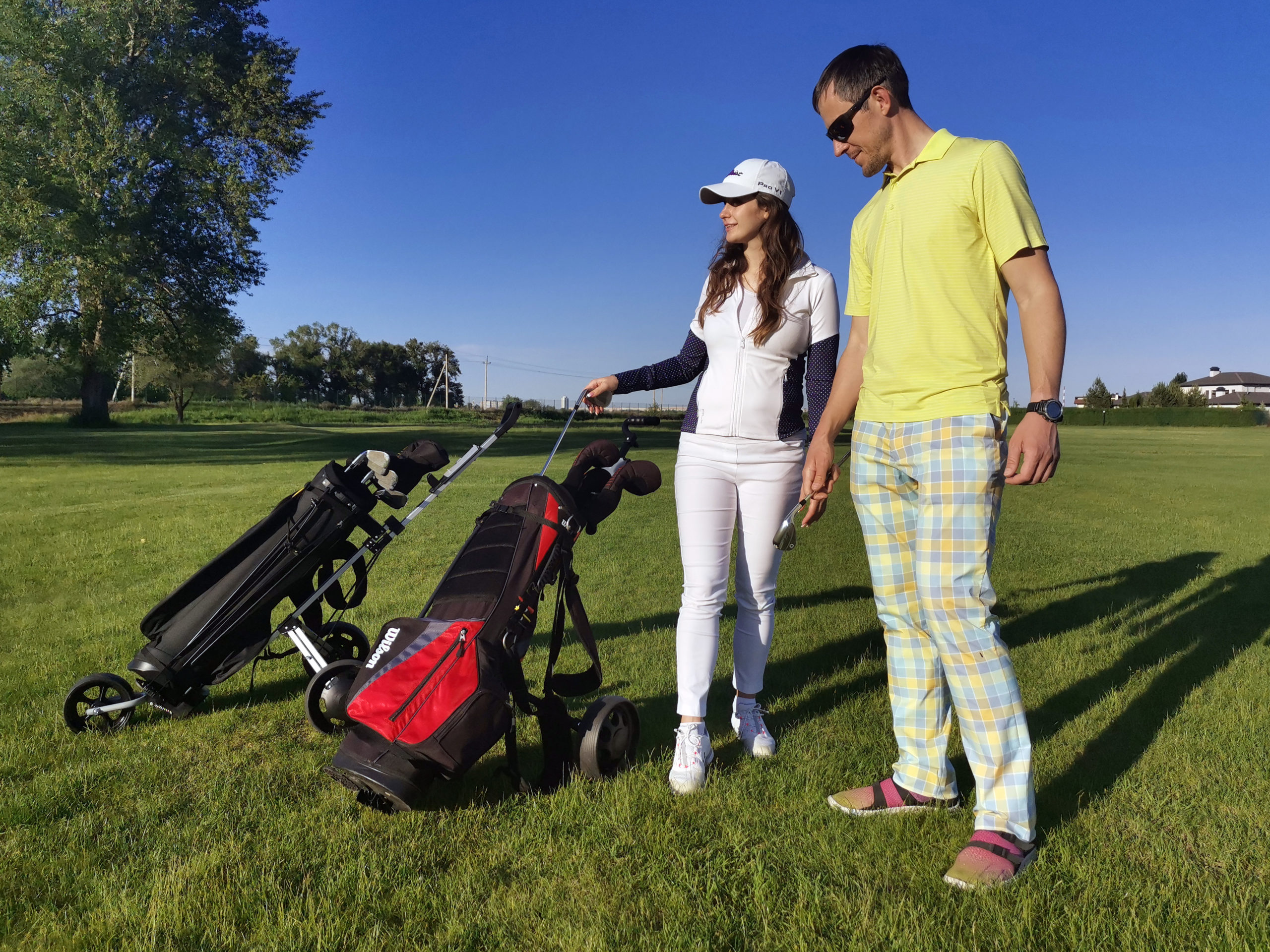 The tubular bag is ideal for six or seven clubs and during practice.Lightweight bags – make sure the strap is strong enough for the number of clubs you intend to carry. The collapsible bag may not be suitable for a complete set, nor can it be used with a golf cart.
The carrying bag should not be too big to be comfortable to carry, but large enough to stow the kit, be rigid enough to be carried on a trolley, and have a strong shoulder strap. Get a bag with a cover that will protect the contents from the rain.
A bag with compartments for each club is good for keeping clubs separate, especially useful for clubs with graphite shank, which can be heavy.A competition bag should have a very strong webbing and a solid bottom as caddies often sit on them!
Universal bag is ideal for travel and for transportation in the car. Look for a bag with a strong shoulder strap for the number of clubs you intend to carry, a hard bag if you want to transport it on a trolley, with a rain cover, a secure bottom and roomy pockets so you can put everything you want to take with you. yourself on the field.
If you use clubs with a graphite shank, soft cloth baffles will protect them.Golf bags are available with zippers at the ends and are used to store valuables. It is advisable to purchase a bag with a compartment for shoes, which can be stored separately from clothes.
Club covers
They can be made from vinyl, fabric, leather or sheepskin. Although sheepskin is more expensive, it is in many ways better than other options because it is waterproof and also "breathable", which does not allow moisture to accumulate inside. Cases are great for keeping the set intact. However, except when the irons are made of stainless steel, you must ensure that the cases are not wet.
Golf carts
Most players use carts that have to be pulled or electric versions. When you're dealing with a push cart, check how small it is once folded, and then consider if you want to remove the bag from the cart before you fold it and put it in your car.
Some players prefer to leave the bag attached to the cart, while others find it too heavy and unwieldy and prefer to separate them.Check not only the weight of the trolley, but also in which direction it is pushing. For a cart to be comfortable, it must be well balanced, whether you're pulling or pushing.
Ideally, you should be able to pull it with your arm hanging freely. If the balance is wrong or the handle is too long, the hand will hold the cart at an awkward angle. Look for a cart with an adjustable handle and test the cart at the store by placing your club bag on it.
If you want to buy an electric cart, pay attention to its weight and battery weight. Many older players have electric carts because they are easier to use on the field, but then they find that the battery is too heavy to lift the cart. Always buy an electric cart from your golf club professional. You can contact him to recharge the battery.
Important golf accessories
On the field, you will have to use many other items. These include a towel in a bag for cleaning the ball, drying hands, etc., which is used in wet weather. Get a good umbrella that will protect you from rain and wind. What is needed is a type of umbrella with a strong base that can withstand any kind of weather, up to a hurricane.
Tees can be wooden or plastic. Wooden ones will break with almost every hard hit, however, some pros feel that they do less damage to sticks, especially good persimmon sticks. For amateurs, tees in the form of a turret with a given height are an excellent option. Use one height for drivers, another for woods 3 and 4, and the lowest for iron strikes.
Most pros play with tees in their pockets. More convenient is the tee holder, where you can also put a pencil, a score card and a few ball markers. You can buy a holder that will be attached to the bag.
A really useful innovation is the ball wiper that stays wet. This item is especially useful on courts where there is no place to wash the ball. While this item is not used by professionals who rely on spitting and caddies, it is useful for the hobbyist and guards against the potential danger of licking the ball.
Add a "rod" to your equipment – a device for returning balls that helps you get them when they hit the water.